Wilderness Toilets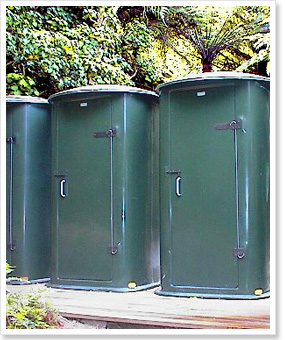 The NFP Fibreglass range of wilderness toilets are ideal for all outdoor and remote location ablution requirements. Extensive research and design has been undertaken in the development of the NFP wilderness toilet range for ease of installation and use, their environmental friendliness and sturdy, long-lasting construction.

All models can be easily carried and installed by two people and transporting toilets on an average trailer is no problem. Damaged panels are easily replaced as spare parts are readily available. A standard dry vault toilet which can be internally or externally vented. If the external option is chosen, a super vent is added. This is supplied with brackets and fastenings and fits neatly to the rear of the building.

All holes are predrilled for easy on-site assembly. The wilderness toilet is available as a low volume flushing version (with a fully moulded fibreglass pan and flapper) or a flushing version with a standard ceramic bowl for town connection.