Alpine Toilets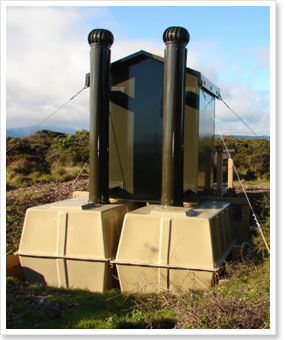 This is a double toilet package with the building constructed from colour steel sandwiched foam. It is designed to fit over a 4000L holding tank and comes complete with a super vent and roto Vent.

This alpine toilet is very light, robust and easy to clean. Doors can be inward or outward opening and are fitted with door closers, privacy latches, and heavy duty stainless steel door handle sets.

The floors are aluminium checker-plate and carry a slight slope to the door for easy cleaning. The building has an opaque fibreglass skylight, and a partition wall.

Due to demand we have been manufacturing some double buildings of different configurations, for example fully accessible cubical and a standard single cubical in one building and two fully accessible cubicles in one building. Double buildings have a partition wall between and one skylight.

A stainless steel hand basin fitted and supplied with an industrial spring action tap is an optional extra.